Robert Griffing
signed and numbered limited-edition print


Sold out
One Mile to Bushy Run Station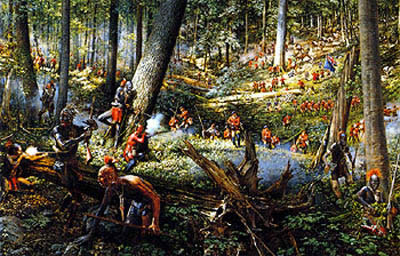 In May 1763, Pontiac, a hitherto unknown Ottawa chief, launched an all-out war for Native American independence from the British. In short order, Pontiac's forces destroyed eight British forts and countless settlements. By June, Fort Pitt, which in addition to its 125 man military garrison, housed over 600 frontier refugees, was also under siege. A 500 man force, consisting of elements of the 42nd and 77th Highland Regiments and some Royal Americans, under command of Col. Henry Bouquet, assembled in Carlisle, PA and departed on July 18 to relieve Fort Pitt.

During the afternoon of August 5, at Chestnut Ridge, one mile short of Bushy Run Station, where it was to camp for the night, Bouquet's forces were attacked by the Indians. Artist Robert Griffing depicts the Highlanders immediately charging what they believe to be no more than a small ambush, before falling back into a defensive perimeter as the size of the opposing force becomes apparent. Bouquet constructed a makeshift fort using the bags of flour carried by the 250 pack horses in his column, but with close to 70 officers and men dead or wounded, no water, and unable to abandon his pack animals, the situation appeared bleak.
However, over the night of August 5-6, Bouquet devised a plan in which the following day, by drawing the Indians into what they believed was a collapsing perimeter, Bouquet was able to flank the Indians, register the first victory of British/American forces over the Indians in forest warfare, and in the process turn the tide in Pontiac's war. Bouquet's relief column reached Fort Pitt four days later.